SPORTS PERFORMANCE TRAINING.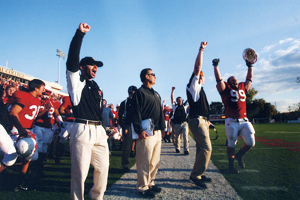 Sports Performance Training is a fitness training program geared towards individuals or groups of individuals eager to improve their skills in a specific sport and/or enhance their overall athleticism.
As a result of working with many individuals of varying gender, abilities and goals over the last several years and experiencing many different training techniques & philosophies, Brandon has developed a Sports Performance Training program to assist individuals in attaining whatever goals they have, regardless of their specific sport. Each individual is different, each sport is different and so the training philosophy will coincide with these differing factors.
BLBTRAINING's Sports Performance Training program deals primarily with the enhancement of speed in athletes, additionally focusing on the development of strength, agility/quickness and overall athletic confidence that will help realize the potential of every athlete.
Brandon played varsity football, baseball and track in college. He was the Captain of the football team and in 1997 was honored as "Scholar Athlete of the Year." After college, Brandon was invited to an Arena Football League (AFL) training camp with the Green Bay Blizzard, coached by former Green Bay Packer, Brian Noble. After a shoulder injury ended his playing career, Brandon had an opportunity to be a part of three highly successful winning football programs. Beginning at Northwestern University, during the period of Big Ten championships, Rose Bowl and Citrus Bowl appearances. Previous to that, two seasons, at North Central College, as an Assistant Defensive Backs/Special Teams/Speed Coach. During his tenure, the North Central College football team had a record of 19-3, won 2 conference titles in a highly competitive CCIW conference, had 1 undefeated regular season and was ranked as high as #2 in the entire country (highest national ranking in school history). North Central College was nationally ranked in the top 5 both seasons. And, most recently at Prairie Ridge HS, as an Assistant Outside Linebackers/Special Teams/Speed Coach, helping the team to a record breaking season, winning it's 1st ever FVV conference title, winning more games in a season than ever before with 13 and earning its 1st ever Illinois State Championship game appearance. Prairie Ridge won the State Championship for the 1st time in school history. Consequently, Brandon understands what it takes to perform at a high level and be successful athletically.
Brandon has personally trained with many current and former professional athletes, most notably, National Football League (NFL) and Arena Football League (AFL) players, along with a number of elite college athletes preparing for the next level of professional sports (see below).
Organizations athletes are currently or formerly affiliated:
NFL.
Buffalo Bills
Carolina Panthers
Chicago Bears
Green Bay Packers
Indianapolis Colts
Jacksonville Jaguars
NY Giants
NY Jets
Philadelphia Eagles
Tennessee Titans
AFL.
Chicago Rush
Green Bay Blizzard
Nashville Kats
San Jose SaberCats
COLLEGES.
Northern Illinois
Northwestern
Notre Dame
Penn
University of Houston
University of Illinois
Western Illinois
SPECIAL FEATURES.
• FREE Individual Athlete evaluation:
strength/power/explosive testing for total body function, postural tests and body composition analysis
• Focus on athletic development through, conjugate method:
strength training techniques include, but not limited to; max effort, dynamic, repetition, plyometric, isometric, SAQ; speed/agility/quickness
VIDEO DEMO.
ADDITIONAL.
• In-home or facility based (see Locations)
• For ALL ages and fitness levels
• NO gym membership required
• NEW clients receive a FREE BLBTRAINING T-shirt
• Duration of session; 45 minutes
Regional Sports Center.
Click here to learn more about our Regional Sports Center packages.